Strategic Plan for NIH Obesity Research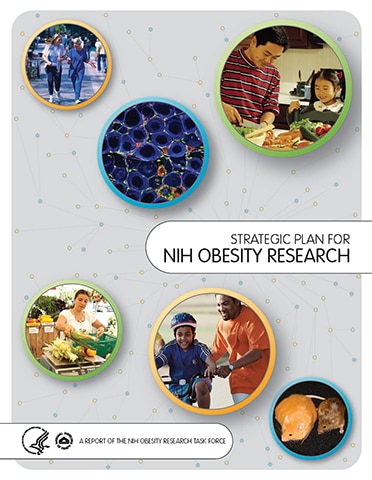 The Purpose of the Strategic Plan
The Strategic Plan for NIH Obesity Research serves as a guide to accelerate a broad spectrum of research toward developing new and more effective approaches to address the tremendous burden of obesity, so that people can look forward to healthier lives.
The Plan was originally published in 2011. In 2018-2019, the Obesity Research Task Force confirmed that the challenges and opportunities identified in the Plan reflect the current research landscape and should continue to guide obesity research.
Full Report for the scientific community

(PDF, 716.76 KB)

Summary Report non-technical

(PDF, 627.47 KB)

View a video of former NIH Director Dr. Francis Collins discussing the Strategic Plan

Development of the Strategic Plan
The Strategic Plan was developed by the NIH Obesity Research Task Force with crucial input from researchers external to the NIH, professional and other health-focused organizations, and others through a public comment period. Research challenges and opportunities identified at meetings and workshops also helped shape the Strategic Plan, and will continue to inform NIH research planning.
Major Themes for Research Highlighted in the Strategic Plan
Research Opportunities:
Discover fundamental biological processes that regulate body weight and influence behavior
Understand the factors that contribute to obesity and its consequences
Design and test new interventions for achieving and maintaining a healthy weight
Evaluate promising strategies for obesity prevention and treatment in real-world settings and diverse populations
Harness technology and tools to advance obesity research and improve healthcare delivery
Application of Research Findings:
Facilitate integration of research results into community programs and medical practice
Questions and Answers
The efforts of many individuals and institutions are essential to reducing the prevalence of obesity – including government, businesses, community organizations, healthcare professionals, schools, and families. Research can provide the foundation for these efforts. As the country's medical research agency, the NIH funds a spectrum of research to reduce the prevalence and burden of obesity. Research can lead to a better understanding of the causes and consequences of obesity and will give us the evidence for what works to prevent and treat obesity. In addition, research will help us reduce health disparities and inform policies.
Researchers seek to answer many questions, for example:
How can we increase and use our knowledge of human biology and behavior to develop new and more effective prevention and treatment approaches?
What aspects of our community environments and daily lives contribute to unhealthy eating and insufficient physical activity–and what can we change to make it easier for people to achieve a healthy weight?
How can we rigorously evaluate interventions–whether based on individual lifestyle changes, pharmacological or surgical approaches, community-based programs, policy changes, or other environmental changes–to determine which really work?
How do we scale up the approaches that show promise and expand those proven effective, in order to reach more people?
Given that no single intervention will solve this complex problem, how can we continue to develop new and innovative approaches?
We hope that the plan will serve as a guide to accelerate progress in obesity research, and that this research will ultimately help extend healthy life and reduce the burdens of illness and disability.
Obesity is highly prevalent in the United States. Obesity increases a person's chance of developing many health problems, including type 2 diabetes, heart disease, high blood pressure, fatty liver disease, respiratory problems (e.g., asthma and sleep apnea), and some cancers. Obesity adversely affects people's quality of life and exacts a substantial economic toll on the nation.
Obesity arises from a complex interplay of forces and affects some populations disproportionately. We need to take a multifaceted approach to combat it. Simply telling people to "eat less and exercise more" is not enough.
Research is the foundation for finding viable solutions. Research allows us to explore the roles that genetics and biology, our environment, and our lifestyles play in obesity – and to transform that knowledge into better prevention and treatment strategies. Through research, we rigorously evaluate interventions to see which ones really work and who can benefit most.
Information on funding opportunities, including lists of NIH obesity-related research solicitations, is available.
The strategic plan identifies and encourages a broad range of research opportunities and priorities to accelerate obesity research.
Researchers can obtain information about applying for NIH funding, and about the peer review system through which applications are evaluated, on the NIH Grants and Funding website. NIH publishes Notices of Funding Opportunities to solicit research on topics specific to many diseases and conditions, including obesity. Additionally, researchers are invited to submit applications independent of these topic-specific solicitations. View complete listings of all NIH research solicitations.
Grant applications that fall within the areas covered in the strategic plan are considered under the same review processes as other NIH research applications.
Advancing the progress of obesity research requires a strong pool of researchers with diverse areas of expertise who are dedicated to understanding and ameliorating obesity and its many adverse outcomes.
But researchers alone can't solve the obesity problem. We need the commitment of policymakers, healthcare practitioners, businesses, communities, families, and individuals to partner in research and implement what we learn. The NIH works with groups across the country and around the world—including universities, medical centers, businesses, schools, and communities—to study obesity, develop and evaluate strategies for prevention and treatment, train researchers, and teach people about science-based interventions to improve their health.
Everyone can play a role in enhancing obesity research and moving research results to longer and healthier lives. For example:
Researchers can submit obesity-related grant applications that align with the areas of opportunity highlighted in the plan.
When taking actions to reduce obesity—such as adding sidewalks or playgrounds to increase opportunities for physical activity or improving access to fresh, healthy foods—policymakers, community organizations, and others can participate in research to evaluate these efforts, to determine what is working, and how successful approaches could be expanded.
The public can participate in clinical research studies to help inform the science of obesity – helping scientists to identify contributing factors and evaluate new prevention and treatment strategies.